Billing & Invoicing, for WordPress
How it works: you create an invoice from your WordPress installation's admin section, an email with a brief invoice description and a unique link is sent to your client. Your client follows the special link to your blog, where their invoice is automatically displayed for them. After reviewing the invoice, your client pays their bill using a credit card or PayPal account, and you are immediately notified.
---
Advanced Billing and Invoicing
all within the familiar WordPress control panel.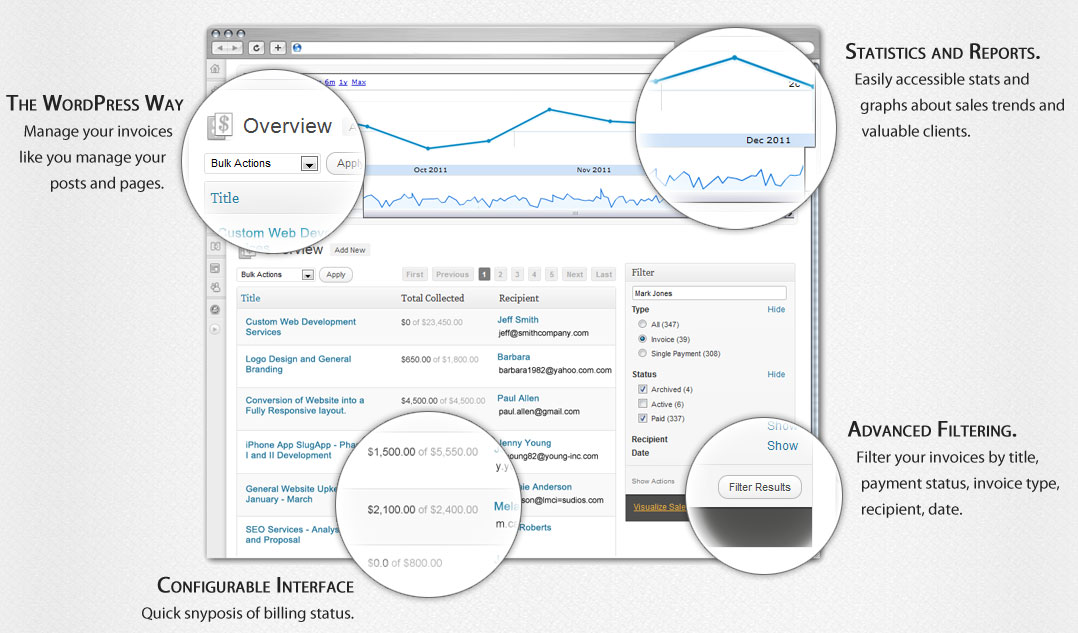 Custom Secure Invoicing
Send notifications to customers with a secured link back to the web invoice.
Reminders and customizable invoice and receipt templates
Customize the payment entry, invoice welcome line, and make administrative adjustments.
With premium features like PDF Invoices and Quotes, get complete control of the invoicing experience.
Multiple Payment Channels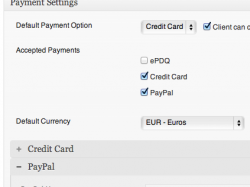 Enable or limit clients to choose between PayPal and Credits cards for payments and setup a different payment option for each invoice.
Credit card payments can be accepted via Authorize.net or MerchantPlus NaviGate.
Recurring billing using Authorize.net's ARB (Automatic Recurring Billing) feature or PayPal with Instant Payment Notification system.
Support for Barclay's ePDQ and more gateways coming soon!
Much more than an Invoicing plugin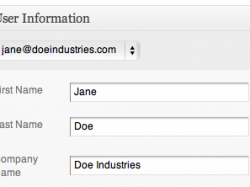 WP-Invoice offers you the flexibility of a smooth functioning user interface which is capable of invoice filtering, searching, invoice archiving and customizable receipts.
Organize and filter your client data as you want, and never miss another invoice again.
Just add clients and let WordPress do the invoicing for you!
Check out the Latest WP-Invoice News
Updated libraries. Google Wallet deprecated and removed. Fixed issue with Stripe keys having spaces around. Fixed a lot of Warnings/Strict Standards. Added option to allow partial payments by default. Fixes to Invoice History shortcode. Fixed JavaScript jQuery deprecated code (live to on). Added 2Checkout payment gateway. Fixed WP-CRM integration. Added fix that should prevent mod_security […]
Changelog: * Fixed critical issues. * Fixed Stripe gateway's conflict. * Fixed fatal error on sending notifications. * Updated German (DE) localization. * Updated Russian (RU) localization.
* Fixed simple style issues. * Fixed JavaScript issues. * Added new option which allows to set whether or not to send passwords to new users created by the plugin. * Added new option which controls compatibility mode state. May help if you have problems with invoice appearence. * Fixes to Premium Features connector. * […]
Today, we are happy to announce that we have added a bundle deal for WP-Invoice to our products. WP-Invoice Complete contains all the Premium Features for WP-Invoice: Single Page Checkout PDF Invoices Quotes Power Tools The great part is that with this bundle you have the full power of WP-Invoice under the hood. The even […]
WP-Invoice 3.08.0 is released. You have many new abilities now. Here's the complete changelog: Added Export/Import Invoices. Added Internal refunds. Added WP-Property plugin's FEPS integration. Added new Google Checkout payment method. Added the ability to force manual payment by unchecking all methods. Fixed 'execution time limit' issue in high-load systems. User search UI improved. Contextual […]
WP-Invoice version 3.07.0 is out and has a lot of fixes and improvements, including two new useful shortcodes and many other improvements including compatibility with transparent png logos for the invoice PDF, the ability to change the "from" email on invoice notifications, improved google analytics functionality and more! Here is the complete changelog: Added WordPress 3.4-RC1 compatibility. […]
We are very happy to announce that WP-Invoice version 3.04.2 has been released! With this release, we are introducing two brand-new Premium Features, PDF Invoices and Receipts and Quotes! We have also fixed a few bugs, and improved the settings UI to make the various settings a little bit more obvious for the new users.