Overview of WP-Property Super Map
WP-Property: Super Map
The Supermap add-on displays an interactive map of your listings, in one convenient place, for your visitors to see. The map is powered by Google Maps, and therefore allows all the standard Google Map features such as zooming, panning, displaying popups, dynamic filtering, and more.
In addition to plotting listings on a map, a sidebar may be displayed allowing visitors to search for listings with each search updating the map in real-time.
You can create and insert as many Supermaps as you'd like, using shortcodes, to include having multiple maps on one page. Additionally, you may also use the Supermap to display search result properties by placing one of the shortcodes on the Default Property Page.
GET STARTED
Settings Page
As the case with most of our premium features, a tab will be added to the Settings page. Within this tab you can configure some of the global Supermap settings, such Sidebar Attributes, which is a list of attributes (Bedrooms, Bathrooms, Address, etc.) to be displayed in the left sidebar of Supermaps.
Be sure to set your Supermap sidebar thumbnail to something relatively small - we recommend 90px by 90px, if not smaller.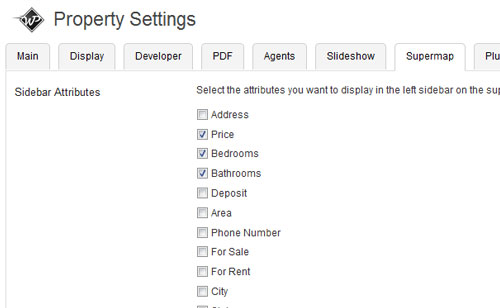 To configure the attributes that are displayed in the popup bubble, visit the Settings -> Display tab, where under Google Maps you can configure the attributes, as well as the size of the thumbnail image inside the popup.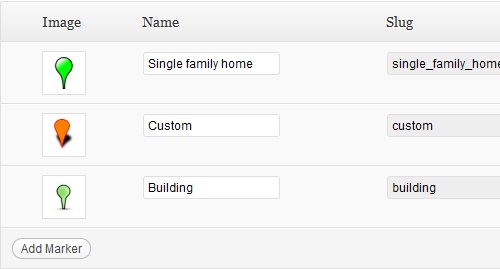 Map Markers
Allows you to upload different Google Maps custom markers for each property type or single property. Map markers for property types you can set on Properties/Settings/Developer page Property Types table. For single property - on Single Property editing page.
Showing Super Map on Front End
For the most basic implementation, you would insert the following shortcode into a page, post, or text widget (if your theme allows it).
[supermap]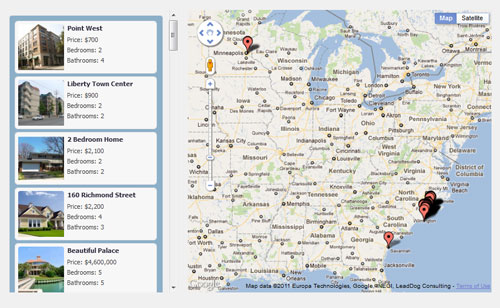 In some situations, if you have a narrow page, for instance, you may want to hide the sidebar, and show only the map. To do that, you would use the following shortcode:
[supermap hide_sidebar='true']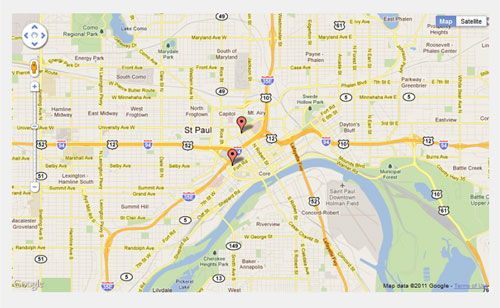 There are times when you may want to have more control over how the Supermap is displayed. For example, perhaps you want your visitors to see how close your properties are to the ocean, and you do not want the Supermap to automatically center on middle point of all the properties.
You can use the center_on and zoom arguments to force the map to center on a specific coordinate, and zoom to a certain level.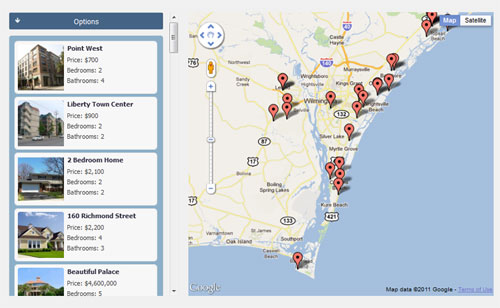 The user will be able to move the map around, and change the zoom, after the fact, but the initial view would be set to your specifications. Example shortcode:
[supermap center_on='44.954167,-93.113889' zoom=11]
Displaying Sidebar Filters
As you can see from the above, the default view of the supermap is very basic, all you have is, well, the map. If you want to let your visitors search the map, you can pass WP-Property attributes into the shortcode, which will then be made available in a dropdown filter. "Passing attributes into shortcode" is tech jargon for doing something like this:
[supermap bedrooms=2-3 bathrooms=all]
What that means is the map will only show properties that have between 2 and 3 bedrooms. The bathrooms attribute is set to 'all' in order for it to show up in the filter.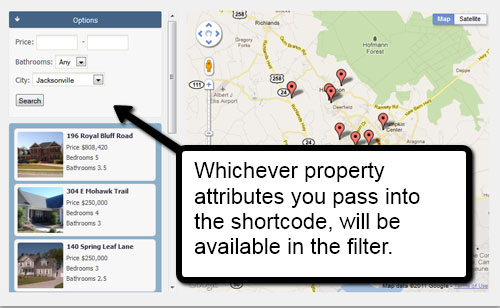 So, we use the 'all' value to simply force the Supermap to display the filter, letting the user select something later (if they want to).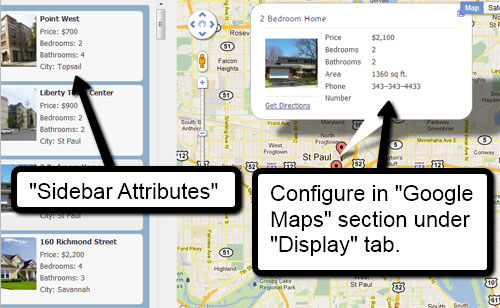 Displaying Map Areas

Cheet Sheat for [supermap] Shortcode
Shortcode
Type
Default
Description
hide_sidebar
true/false
false
Toggles the sidebar that displays a list of returned properties and a search filter.
map_width
number
450px
Map width, in pixels.
map_height
number
450px
Map height in pixels.
zoom
number
calculated automatically based on results
Sets map zoom.
center_on
calculated automatically based on results
Sets center coordinates.
show_areas
string
all
Slug of area which you can add on Supermap tab (Settings). Just add to shortcode attribute show_areas=all to draw all areas on the map. Also You can use area's slugs to show them on the map, like as show_areas=new_york,washington
per_page
number
10
Property quantity per page.
starting_row
number
0
Sets starting row.
pagination
on/off
on
Switches pagination.
sort_by
string
menu_order
Sets sorting by any of your property attributes.
sort_order
ASC/DESC
ASC
Sets sort order.
Other Tips
If your properties are not showing up, it is almost always due to their address coordinates not being available. Coordinates are set automatically when you save a property by validating the address you specify against Google Maps servers. Be sure that your Address Attribute is set to the attribute into which you put in addresses on the Main WP-Property Settings page.
You can exclude specific properties from being displayed on any Supermap by clicking "Exclude property from supermap" checkbox, which becomes available on all property pages after the Supermap feature is available.
If your Supermap does not show up at all it could be caused by a JavaScript error, most likely caused by a conflict with another plugin, or theme. Try systematically disabling other plugins to identify the source of the conflict.